The Summer Bride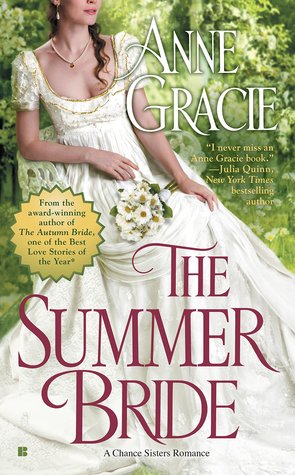 Reviewed by Helen
Daisy's story was worth the wait what a story this one is Daisy as always is the most stubborn gel she is more determined than ever to be the best modiste to the toffs and have her own shop while her sisters Abby, Damaris and Jane have found the heroes so well suited to them but Daisy is determined to stay single, because of the life that she has led up until meeting her sisters and Lady Bea Daisy has a hard time trusting but she is working her fingers to the bone at the moment with her beautiful clothing.

Patrick Flynn runs a shipping company with Max and Freddy he has made his money and has now arrived in London to find himself a wife and settle down he wants a Lady. Flynn is Irish and not your normal gentleman but he is honest and caring with memories from his childhood that he keeps close. Daisy has been making him some vests and they have become close friends they get along so well and there is a pull but neither of them are going to do anything about it they have their lives mapped out for themselves and are both determined to stick to their ideas.

This is the final book in The Chance Sisters series and I think Daisy's finished it off wonderfully truly Lady Bea was at her best with Daisy and her worries such a stubborn gel and well Flynn is just the best hero and when he realized that Daisy was the perfect woman for him there was no stopping him two stubborn determined people their journey was filled with ups and downs but so sensually sizzling I loved it from page one and of course the characters that we have made friends with in the first three books are all there to join in this one.

I highly recommend this one and this series they were a joy to read so many hours of reading pleasure you will smile shed some tears and sigh while reading this fabulous story one for the keeper shelf.
5/5 stars for a fabulous story
Expected publication: July 5th 2016 by Berkley